About Us
A value-driven company, Hesham Industrial Solutions is winning customers hearts with its transparent work culture and progressive business approach. Idea of doing business on ethical grounds is helping us to come across as one of the reliable companies of Indian and international markets.
Globally, our company serves a wide impressive line of Forklift Spot Light,Forklift Warning Light, LED Tail Light, LED Headlight and much more. All these products are true depiction of perfection as production team manufactures them with high precision, using quality-marked machines and tools.
Quality concerns of clients are well-addressed by us as a customer-centric manufacturer. We source base materials from reputed vendors of the market. Clients needs' are kept in view during production in order to provide nothing below the best against hard-earned money. In and in-house testing facility, offerings are rigorously examined by a team of experts to ensure serving value to customers.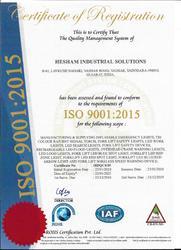 Download Brochure

Our Clients
Read More